Echoing hints of love (reality sets in)
June 15, 2010
i can't stop thinking of you
your words echo in my head,
a song on repeat, to play
again and again and again
echoing

echoing
echoing
to fade briefly
then come in strong.

Words with hidden hints
that point toward love.
But what if i read them
wrong? What can you be thinking?


falling

falling
falling
down from this bright
place above the clouds.

Falling into reality.
A world of white. of
nothingness. Why can't
i seem to stay in my land of
colorful

joy
colorful
happiness? Why does reality
have to be so depressing?

Then you say something
more, a flash of color
sends a flicker of hope,
maybe reality isn't so bad....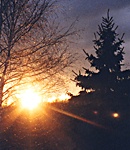 © Christy S., Germantown, NY