Perfection Enraptured
July 7, 2010
If you shared but a fraction of the warmth in your voice,
I'd be heated for eternities after.
Yet that warmth that spreads like a fevered fire,
Is nothing compared to your laughter.
And if that laugh were to bring a small smile to your face,
You'd make my heart beat even faster.
Small quirks, slight things, like your devilish smirk,
Prove your perfection enraptured.

Fields full of flame red roses
Are nothing compared to the sight of your eyes,
Which happen to sing a song of sorts:
A beauteous recompense of compressed sighs.
The cheer that shines around them,
Give way to memories further devised
But color found in that weathered stare,
Is wherein my heart's desire lies.

I know not of how heaven feels,
But now I do of bliss,
And although I've felt not of paradise,
I've felt the closest thing: your kiss.
I can not say I've experienced nirvana,
But I do know of this,
The only thing I want is you in my arms,
And your love the only thing I wish.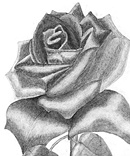 © Nghi L., Phoenix, AZ