Call On Me
July 26, 2010
"He's going to call you tomorrow
I gave him your number."
My blood flares, heart thumping double-time
At the thought of a conversation
With a boy I had known for two weeks,
Seen every minute in those fourteen precious days
The man who had sat down beside me
To watch the children at the camp
Hardly paying attention, as we should
Instead exchanging small bits of information
Revealing ourselves to each other in soft voices
Interspersed with long silences
When we'd sit and stare into nothingness,
Occasionally glancing over, inconspicuously
Smiles on our lips, and a hunger for talk
Knowing that there were infinite useless phrases to utter
Somehow silently agreeing that they could be kept unsaid

I remember the day of the dance
Calming the campers' excited voices
Helping to join confused hearts for two hours
When they would dance once
Before each finding more worthy partners-
The whole time telling my own heart to be still
On that day, I wandered in circles
Each drawing me ever closer to the date I wanted
Until enough courage came for my hand
To hold out the note for his fingers to catch
But not enough courage to make me stand and wait.
From the safety of a group I watched him
Then, and through the whole dance, hoping
Thankful when at last our eyes met
And we lay under the blanket of starlight
In desperation finding only useless things to say
Topics we had shunned so before
Too soon, we were freed from awkwardness
And the thought reached us
That our slowly unfolding time was at an end
Though as I picked myself up and away
The fact came from him to me that he cared for me as I did for him
And I smiled, knowing the end had not come

Now, the promise of the call loomed.
A promise that made me shake in a way I could not stop
A way I did not understand
My excitement was underlined with obvious fear
Wanting to hear his voice, but how,
When I heard so little of it when we were together?
How, when I needed his face for the words to matter?
All day, I longed for the call
The thought of which made my eyes grow wide
I counted down the hours in the window of time
Before other duties, ones I didn't much care about, called me away
When the last minute was wretched away,
An overwhelming feeling of missing him descended on me
Blocking out the relief from my cowardice
And now, still, as the possibility of his call
Stretches farther and farther away
My sadness and the thought of him stay close beside me
I know not his thoughts, but I wonder
What if I had waited just one hour longer?
Would the call have come?
Will he call on me, unannounced, later?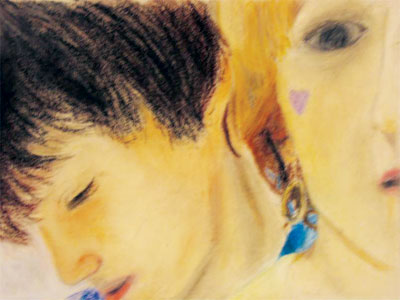 © Natalie D., Ames, IA