We Are America
July 30, 2010
I hear America cry over the soldiers we've lost in this senseless war.
I hear America's heart beat clear with every new born, being birth into the land of opportunity; helping the future stay alive.
I hear America breathe deep when we stress, to help ease our minds from being suffocated by Uncle Sam's hands.
I hear America speak when we all come together as one and realize that our skin color maybe different; but we all live & breathe on this land under the sun.
I hear America laugh in the face of diversity as it falls to America's unity.


I see America fight for the lost dreams brutal reality tired to get rid of, but America finds strengths in numbers. So the dream lives on.
I see America behind its own bars of racism as a convict charged for attempted segregation; yarning for freedom & a fresh start to become one.
I see America dance to the rhythm of our heart beats, and without it America will suffer from a cardiac arrest.
I see America stress from the threat of this Recession, with no jobs, & less money; it seems we all need a blessing.
I see America tripping over its feet as the obstacle of history keeps crossing its path. America leaps over the difficulty, but how long can we last before our next visit from the past?


I want America to open the young minds, and unlock the dormant potential in the youth to embrace their roots and expose the truth in the valley of lies.
I want America to hear the voices of the people, even those who are afraid to speak; so we can reach the highest peak and find the answers that we seek.
I want America to see and focus on poverty, rather than prosperity, to get our people off the streets and put shoes on their feet. So they too can stand alongside us.
I want America to feel our greatest joys as much as our greatest pains, to remain humble and achieve the balance.
I want America to dry its tears and smile knowing we're still here, and remained a force that dare challenges anyone who denied our power for years.


I hope America can release the differences it held close to its heart. Let them run free, so we can breathe.
I hope America can see not only what it wants, but what's here. Just ignoring the problems mean they'll leave.
I hope America can understand that we're not alone. We're not one nation under God, but we're one of many nations in God's eye sight.
I hope America will, and forever, stay from behind the bars of its own racism. If not, then we're all convicts imprisoned by our own ignorance.
I hope America's people realize that America can't do this on its own, we all need to help. We are here and no place other, and if you leave for another I'm sure you'll miss her. So if we claim to be America's children, doesn't that mean we're all brothers & sisters???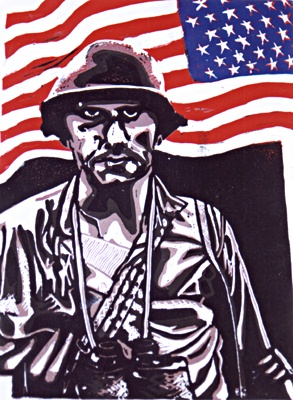 © Troy W., Kannapolis, NC