My Guniea Pigs
August 19, 2010
Hey, don't give me that.
I don't deserve you.
Your sweet black eyes
So filled with innocence and wonder.
Your soft fluffy fur
And soothing purr
My guinea pigs.

I love how you squeak happily
When I come home from school.
I open your cage
That seems too small to hold in your soaring spirits
And you run up to me.
Oh, I love you too!
My guinea pigs!

I stroke your warm plump bodies
And pet your nose with my fingertips.
My troubles seem to melt away
My morale soaring
As I look into your eyes.
But after a while you seem irritated
And i can almost hear you in a squeaky voice,
WOMAN, JUST GIVE ME THE FREAKIN CARROT!

My guinea pigs,
Sometimes taking care of you is a pain.
But you need that care, and that's what matters.
So I do it,
Sometimes not all that well.

But what I realize now,
My guinea pigs,
Is that I need you too.
To forget about the world
And just stare into your innocent face.
You cheer me up when I'm down
And support me when times are tough
Simply by being who you are,
My guinea pigs.

I've been taking you for granted,
And I'm sorry.
And I've realized now,
As if I've been hit by a train,
Is that I can't imagine life without you.
So here, have a carrot.
Here's to you,
My guinea pigs.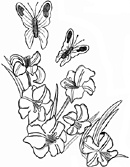 © Leah-Marie D., Peoria, AZ