Dancing In The Rain
August 20, 2010
She wore a smile today; this childlike soul with a love to dance-- 
for that was a day to remember. And remember it she did...
    It was a cool, starry night, just days after a rain.
A rain in which had not occurred since months past.
    The drought was broken at last.
  Now this young girl, she was dried out and naive. 
Awaiting the arrival of him had seemed to take so long. And yet, she was happy with her life at last.
  After what had seemed a drought from her personality, on this cool 
night, she took a stroll to examine the restored world around her.
  What happened that night had seemed a mere dream to her now, but so 
real and happy at the same time.
    She lingered to the top of a hill where one could see the stars.. 
And there, she saw one great star which stood out, stood up and walked 
straight to her. Slowly, the now visible man took her hand, and all 
earth stood still.
    The young girl and this handsome star had began to dance; and as 
they did so, the stars had begun to spin around them. It was only she 
and him, swinging slowly to the rhythm of the stars.
    His arms felt like home.
    She no longer was cold, or lonely or awaiting for the rain in a 
drought.
    She was lost in his eyes.
    And he, lost in her smile.
    Soon morning had come.
    They had just met, and yet, it seemed as though they knew each 
other all along. It seemed as if fate was right in front of them.
    The girl was 14 young, while the man appeared to be 16.
    But then can one truly be judged by age?
    Nay... Her mother would never allow such a thing.
The girl and the man continued to meet up that starry hill each night; 
simply to dance, or share a smile or laugh--  such a pleasant sound.
    What would become of them in years time? Only time could tell.
  Until that time, the memory of this Star is forever in her mind 
when he is not present. Because now, she can see the rainbow after the 
rain.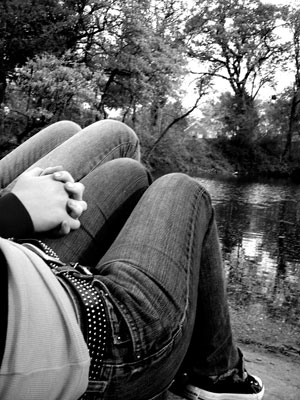 © Lauren R., Edmond, OK