Reassurence
August 23, 2010
Sure as she is in His exhistance

Sure as she is in a mother's love

Is her own identity found in Him

These few short days alone have passed and passed were her

insecurities forever.

~ ~ ~

One sweet example of truth, of acceptance and of a common reality

had influenced her into her own acceptance of herself.

Could this one simple awakening have ridden her of her burden?

Nay.

The Father's love, words and exhistance had set her free, once again.

~ ~ ~

Now, with this newfound confidence

The young girl was able to dance in the midst of a crowd, to sing

aloud, and to say "I am happy," or "I have a unique story and

unashamed of the live God has given me!"

Forever this is the truth

Forever she is His

~ ~ ~

Accepting truth is a new beginning.

A new confidence is reassurence through a Savior.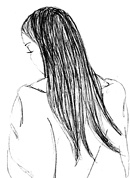 © Miranda B., Neosho, NY