The Stench
September 7, 2010
The stench, that powerful stench
It travels up my nose
And sends a shiver down my spine
It's disgusting, and I love it so much.

Clink, clink goes the ice
Settling at the bottom of my glass
Cold mist rises, the liquid descends
Oh god that stench…!

I pour my bottle, trickle trickle
The glass is half loaded, ready to be cocked
Bottoms up, my dears
The night has just begun.

The drink stings my throat, my eyes burn
I savor it, I hate it, I need more
The sweet poison travels down, down my chest
It strikes the bottom like a bomb
Boom.

I feel the collapse of worry in my feet
The destruction of fear sends a vibration in my head
I become taller, wiser; I am everything I've dreamed of
But most of all I am ashamed

I tumble down, down the hole
I land with the softest thud, an echo in the background
The world spins beyond my closed eyes
Make it stop, make it stop.

And suddenly, for just one moment, it does
The world becomes quiet, the voice dies
The warmth ceases, and the cold drink is everywhere
The gun drops to the floor, and the sweet poison is no more.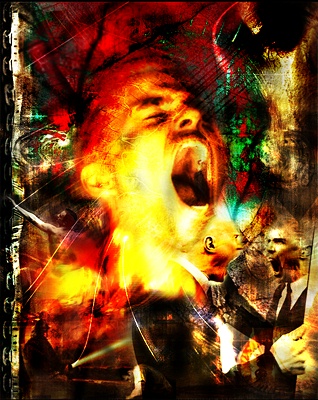 © Mark P. Woodside, NY