The Dream
October 8, 2010
Falling. Falling. Not resisting, but accepting. Suddenly plunged into a bright light that seems to radiate from all around me. And still I fall.
All at once I am on my feet, weary but not bruised; I have landed on an incredibly soft surface.
Surrounding my feet I see a light green, vivacious-looking moss, at least two feet deep. I should be alarmed and shake my legs for fear of insects hiding there - but no fear comes. Instead, even as I think of how pleasant and soothing it feels, twelve hundred butterflies erupt from the green vegetation, almost blinding my vision by the awesome array of dazzling colors. As they flicker and sway in the air, close to my head, I notice strange hues I've never seen before.
A bluish gray, a green-black, a yellow that somehow blends into a light purple.
All too soon the bright, iridescent mass quivers and they disappear into the trees overhead.
As I follow them with my eyes, I behold another wonder.
Looking past the waving leaves and branches, I can just barely glimpse two fantastically huge, steep craggy cliffs, like something in the back of my mind, pricking the sky, not quite touching.
A faint movement between the giant rock slabs fastens my gaze.
Six tiny, intense orbs circle a yellow blazing mass roughly in the center. A minute, forlorn ice-blue orb dawdles behind a larger sphere just a shade lighter.
Seven painted balls in the distance, slowly droning around a fiery lemon spitting flames.
This is the Dream.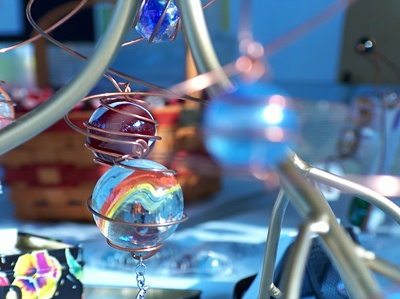 © Sean C., Princeton, IL