Seven Ways of Watching a Clock
October 9, 2010
1
At night when all lights are out,
And you're tucked under the covers,
The fluorescent red numbers
Glow quietly beside you.

2
The numbers start to change,
Moving a line here
Adding and subtracting one there.

3
In class-during an exam
The analog clock hangs
Tick-tock, tick-tock

4
The hands partake in a game of tag
The second hand is "it"
It chases the minute hand and hour hand
Tagging them both, and passing them by.
Neither really care though, for
They don't seem to budge.

5
Sitting in a lecture hall
Feels like an eternity-the lesson flies
Over your head and you begin
To focus
On the clock
The second hand's sound is
Deafening.
It echoes in your mind.
But the silence between each tick and each tock
Is louder.

6
The black lines of different thickness
Move around the single point
Like planets orbiting the sun.

7
That other type,
The one that only uses numbers,
No hands,
Moves stiffly, more ro-
bot-like,
But is more friendly to
The eye,
The mind,
And
A
Child.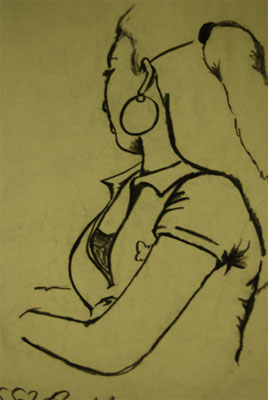 © Janessa B., Kannapolis, NC