The Story of Us
December 5, 2010
just friends, all night,
except for one song.
one song that made everything wrong and right at the same time….
the world seems to spin everywhere around us,
low lights flashing patterns on the backs and necks of swaying couples.
seems like we're on a different planet
with the world just flashing by,
while we stay still.
just friends
the whole night long.

but Mr. Piano Man you told me something I didn't even know.
it wasn't in your lyrics,
it was in the swaying embrace.
I don't know which arms to chose.
the ones that held me at the dance,
or the ones who I sit near in class?
friends?

dear Mr. Piano Man, what do you think?

the electricity.
it's driving me crazy.
I can't resist the pull:
the strange way it moves my body.
the way my mind begins to swirl.
colors clash. overdrive.
can't think.
all I can see is your face.
your shoulder,
your arms,
your hands,
the way u move.
my mind can't take it,
too much.

that electricity is flooding me slowly.
warm, slow, smooth.
friends with an irresistible electricity pulsing through them?
pulsing like its everything that matters,
like you can't stop thinking about it,
like its all you've seen for the last three days.
swaying, hands tight, the feel of his chest.
music soaring, laughing, smiling.
knowing in the moment that its right.

soon enough I begin to wonder,
to hope,
to worry too much.
because it matters so much,
almost too much.
but not quite.

it's simple and complex,
crazy and calm.
we aren't even an item at all
but we both know,
we have something going on.

time passes and all the time I expect to fall,
but every time he comes through like a hero.
every time - I can't believe it.
every time
he catches me.

this is the perfect time to be young and in love,
discovering everything anew.
every moment coruscates
every moment's special
because it's a first love.

we're falling so gently so sweetly
with the speed of a rocket
with the speed of a flower waving in the wind.
with the grace and the kindness,
the sweetness, the newness, the magic,
the simple understanding that this is love.
it's a first love.
it's young love.
he's my first love.

I know I'll always remember him.

you and I
we dance through life
with a smile on our lips
and a sparkle in our eyes,
holding hands.
my friends have never seen me happier.

the firsts roll by,
the memories are adding up,
but soon enough
the doubt creeps in,
and soon enough
I'm contemplating leaving all this behind

my heart is breaking when I look you in the eyes,
whisper goodbye.

now we walk past each other every day,
but we never say hi – just avoid the other's eyes.
it's like a stab in the heart to see how far we've fallen;
every time I see you I wince

I let you in;
you knew parts of me no-one else ever did.
I can still feel your finger prints on my soul.

I remember walking up the empty school stairs together,
just the two of us.
the sun was streaming down
a warm glow
that gave you a halo.
I leaned in,
sighed "I love you" into your shirt.
you stroked my shoulder
"I love you too"

I'll always remember you.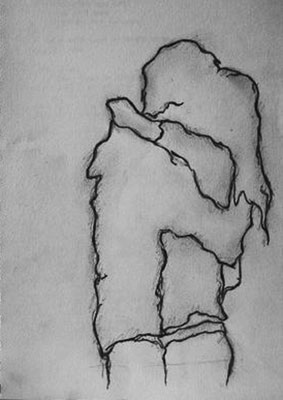 © Nicole B., Newcastle, WA