Indefinate Closure
November 28, 2010
The truth is reality

and reality is all she has to fear.

She lives in the shadows of her enemies.

Never looking for a way for her own smile to appeal.

She has a problem with fiction verses fact.

It's never easy for her to see what is real.

She has a passion

for a love that she can feel.

The essence of the thought

tingles her senses and makes her smile grow.

Love is intangible, but she can almost touch it.

Her mind is confused

it's everything he never said

and everything she never wished to hear.

The truth hurts

but honesty means being fearless.

Look a little bit closer

tear the labels away

the judgements that you placed on me

and all that you never let me say.

I really thought is was a possibility

that you actually knew me.

Maybe you were different,

they can't all be the same.

Now it's fair to call such an idea,

comepletely insane.

Love was out of the question, at the moment.

But who knew what our future could behold.

Broken chances are barely silver, and never gold.

He left patches, indents, we were halfway there.

And she thought she knew him.

She never imagined that he wouldn't give her one chance.

He never let her speak, a word of defense.

How could he believe, everything they said?

He's deceiving, and so niave

I hope that now he's happy,

they'll never come clean.

Live with their lies,

because I'm afraid to explain.

I need the closure

that I know won't make me complete.

Will it make me better?

Or will it make me weak?

I'm clueless, that's me.

The girl without closure, the one who can't speak.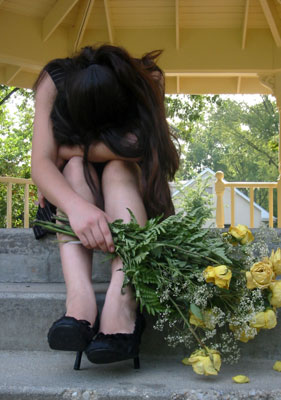 © Martha V., Morton Grove, IL