The Visitor
December 13, 2010
Open up, darling love, I have come again
Unseen, past veils of moonbeams silver
That, alighting 'pon dewdrop diamonds,
Shed no Halo 'round this midnight silent;
No barrier hides your form from my sight'
To evade it? One endless game.
Go on, take a turn, and waste it in vain;
You might as well try to tear Black from Night
Within the edge of a blink do I dwell,
Teasing you with a kiss, cold kisses, kiss again,
Though my lips need not graze o'er your pale skin,
Instead skimming your heart, so deliciously thin.
As I watch you toss in your shroud,
I discern your thoughts, weeping aloud:
"Banish demons, my Lord! Slay this Beast, oh my Lord!
This I beseech from my knees, oh my Lord!"
A practice so fragile to me do you seek,
Imploring the Idol to mangle a Wraith,
Though this attempt I transcend without thought,
For I am of no substance so easily caught.
If one is to render Stalwarts to dust,
One must be able to endure the same
Tortures that they wish to exhaust:
Do not trifle with steel if you yourself rust.
So I gently laugh as I examine your Shield.
A mere tapestry, your Savior: Your sheets.
Oh. How easily I weave through those threads,
And usurp the cloth to clothe you in Dread.
No lover may sheen your flesh in this seat
As I do, my Love, as I do so well.
Feed me your tears as I savor your jerks;
I do believe this is the true Devil's Work.
Cry Love! Please, Cry! No lover may wrench
Such sounds from you as my brushes do;
No sweeter moan than a whimper is heard
Darling Love, Wailing Love, my Sweet Broken Bird;
Allow me this last chance to tell you my name,
Though I know I dealt blows without telling you so;
Such is my nature—my Damnable soul!
Give me your ear as I confide in you this:
I am Fear, and now shall we Kiss.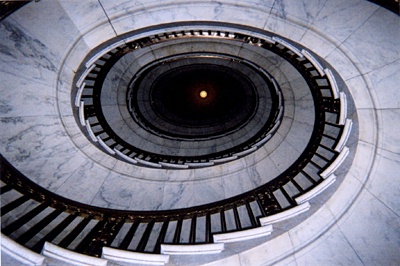 © Kyle T., St. Joseph, MO