Fearful vigil
December 30, 2010
Bite the inside of my cheek all the whole time,
Fearful wonder

Hopeful hurt.

The taste of blood slowly seeps into my mouth

Metallic.

What is wrong with my blood?

Is blood supposed to taste metallic?

Little shards of invisible metal
Break the skin on the inside of my cheek.

Worry overcomes me
Nervous

Fear

Sadness

Overwhelming

Everything.

Tears, tears, how I long for tears
To run down my face
And lift emotions that weigh too heavily on my shoulders.

But cannot they come?

The shadowy blanket of night
And all asleep
But me.

Writing for answers I am.

Looking at your work,

Loving it

Losing in it.

Thinking it like me,
All of it.

Sleep is not wanted.

For if I sleep,

Tomorrow it shall bring
The haunting morrow
Of unwanted fate
To bring me where I never belonged.

Must

Stay

Awake.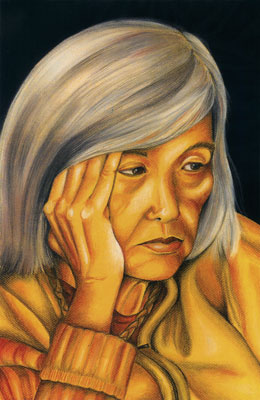 © Kaitlin C., Forest Hills, NY