Sea Shells and Clinging Spiderwebs
January 4, 2011
Ea The sun is bright in the sky.
Very bright.
Like hurt my eyes, I need sunglasses, bright.
(I have nice sunglasses, actually. They're just mysteriously missing.)

It's a beautiful day.
(That's a song, you know.)
Thus, I decide to chill outside for a moment.
(The sun and I are good friends.)

There's a low wall around the patio.
At first I thought the shells were just put there to dry.
But as more and more got placed,
I realized it was on purpose.
(One of my bigger blonde moments, but don't tell).

Now, there're tons of shells, just sitting in a row.
Big ones, small ones, all shapes.
Some smell.
After smelling one, I stopped.
(Another blonde moment, but again, don't say anything).
They smell like low tide that has been festering for a while.
(They only smell a little.)
Maybe I should tell Mom 'bout that.
I smile.
Nah.
(Such a bad child I am.)

I study the shells for a moment.
(Did we find all of these? There's a ton.)
'They are really pretty.'
After a moment's consideration,
(All my weight on one hip, my hand in my hair,)
I bolt upstairs for my baby, my love, my treasure.
(My little red camera. I tend to exaggerate).

I kneel down,
(Ignoring the shorts that bunch up.)
And study the shells again.
(Ah-hah! I find my shell.)
It's just a little white shell.
There's a string of spider web connecting it to its neighbor.
(I wonder- do shell neighbors have shell neighborhood drama?)
The string is small.
Thin.
(Everything I wish I was.)
It's covered in tiny dew drops that are clinging to it for dear life.
(I guess, if the drops fall, they do explode. They better be clinging).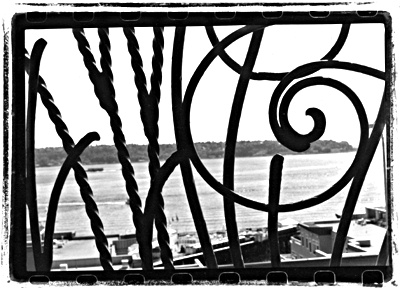 © Mary A., Fullerton, CA