Oh God!!
January 22, 2011
Oh God! You are so good to me!
Treating me like a queen
Even when I turn away from You
You find ways to get my attention
Never giving up on me!
Always sending angels to guide me
You whisper advice that Oprah or Dr. Phil couldn't give
You know what I need to hear and show me the right way!
You give me love that never dies
You delivered me to the best and loving family!
You gave me the best of friends to spend these four years with!
Brought me three God-loving friends to love you with!
You showed me your world in this light
And you promised me a gift I cannot refuse
An eternal life with You and your son!

Oh God! You are so good to me!
Lord, I promise to live my life for you!
It's the least I can do for you!
I promise you lord I will show your people your love
I will bring them to your eternal kingdom!
I promise to never let you down!
From now on, God, use me to spread Your unconditional love!
I want to live for you, oh Lord!!
And only You, my God!!!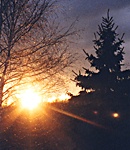 © Vhristy S., Germantown, NY