The Lovers Angst
February 27, 2011
I hate you.
The mere thought of you makes my blood boil and my insides churn. I want to scream at you until my vocal chords are stripped bloody. I want to throw heavy lethal metal objects at you.
I want you to notice.
I want my heart to stop leaping when the text is from you. I want to not stop what i'm doing to reply. You don't deserve to put my life on hold.
You make me sick.
I think of your face and mock every flaw, taunting your features.
Smile secretly at them.
The crooked smile that makes you beautiful and the scar on your lip.
I want to punch you, kick you, cause you serious damage, I want to destroy your belongings and tear off your clothes.
I want you.
I want to forget how your skin smells and forget how your lips feel. I want to learn more. I want to know your body and you know mine. I want you out of my face, out of my head, out of my life.
I want to let you in.
I want the truth on us and what we are, where we stand. I want to remain in ignorance.

You're not worth this time and energy.
You're priceless.
So push me from a building, bury me alive, subject me to torture, let me swim with my toaster and paraglide without wings.
Anything, anything but let me fall for the arrogant, unattainable, irresistible you.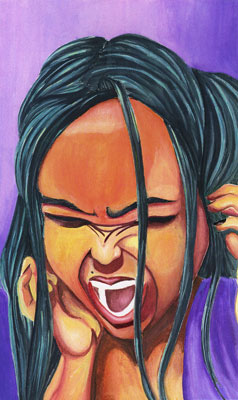 © Kriztille J., Briarwood, NY