the love note _ that never happened.
March 3, 2011
I hold a note in my hand
A note that can change everything
Everything to me
Inside this note
I confess my feelings

Inside this note it describes him and me.

He is sweet and cute
With hair that is the ocean, wavy and unpredictable
His laughter lightens up the room
And I smile, I smile at him

I know what its like
To be rejected
To have someone stare you in the eye
And say "No"
A heart shredded into strips
I didn't want to write this note
But there was a glimmer of hope

I wrote it out
Spreading my words across the paper

I fold it up
The cresses fold along the lines
It is shaped like a heart

I carry it with me
It feels as if I'm holding the world in my hands
It can all come crashing down
But I walk in the crowded hallways

I see him
I smile as I visualize what we would look like
Him holding me by his side,
As I gaze at him
His eyes sparks with the starry sky

People brush up beside me
I doge them along the hallway
Closer and closer to him
I see him talking to someone
a person moves a side
I see her
The beautiful blond blue eyed princes.
I stop in my tracks
Silent tears creep out my eyes
I look at you two together
A perfect math

I grip my note
Ripping it into shreds
My heard shatters onto the empty floor
The people beside me vanish like fog
And its just me, you, and her.
You look up at me.
I look down
I drop the shredded pieces of paper that hold my loving words
I swiftly turn around and cry
A sea of tears comes crashing down.

I gave love another try
And it failed
I cry at myself
For believing a dream
For trusting myself

It was a foolish idea
Never was going to work
It is meant for you and her to be together
My mascara smudged
I walk away
The remaining parts of my heart,
Turned to dust and blew away with the wind
...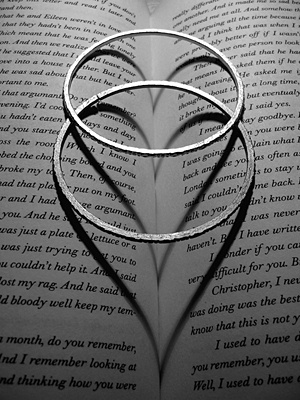 © Julia K., Old Tappan, NJ