Nefandus
March 17, 2011
forbid from shadows
that swallow shallow minds.
rest beneath the feet,
of the never virgin eyes.
take the road down to misery,
and corrupt the souls with lies,
but never BE afraid
of the devil in disguise.

he walks the earth,
like a man no other.
he is thy friend,
he is thy brother.
he is the son,
of the stars discovered.
he is the one,
the beautiful lover.

The black winged angel
slanderer of night.
the red tailed devil,
the master of fright.
lets raise hell,
lets emote fear.
lets turn heads
away from gods shears.
the outcast of life,
the lonely black sheep.
ruler of pandemonium,
the city that never sleeps.
he creeps,
the freak of the night.
Unplugged tongues & invisible fights.
misled young, deprived of there rights.
the rite of laying on of hands.
the rite of ordination
where the devils don't dance.
take my hand.
where god holds his church,
the devil will build his chapel.
where god rules his kingdom,
the devil will rule his castle.
make me as you are,
or i will make you as i am.
they live amongst the stars,
as we live amongst the sands.
we manipulate to desecrate ourselves.
we create hate but never face our hells.
I take pride, in all that i've said.
I live amongst gods, i am never misled.
in this life even angels aren't free,
so i will become as you are,
i will never mislead.
amongst devils and angels,
i will always be.
I take lives, i face it.
in my hatred, your faceless.
awaken. i'm not false, I'm mistaken.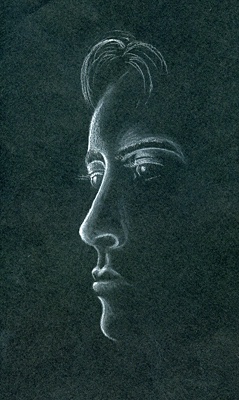 © Carlos S., Glendale, AZ