This, Here, is Nebraska
May 1, 2011
This, here, is Nebraska.
We know it as home.
We were raised here.
And here we'll stay.

This place is Nebraska,
Driving down endless roads,
By the endless cornfields.
Waiting for the City.

We may not know where it is,
But we know we will get there.
To get to the Nighthawks game
Or to see the Stormchasers.

Maybe go the Henry Doorly Zoo
Or see the three-story Library.
I could see a Bluejays game.
Watch some Lancers hockey.

See the amazing Husker football,
Or go see the SAC.
This, here, is Nebraska,
The city of Omaha.

But when I'm driving back,
And I see the Cornfields,
I know that I'm Home
Home, here, in Nebraska.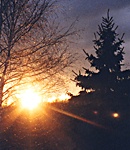 © Vhristy S., Germantown, NY