Lovely.
June 29, 2011
Yesterday, I was thinking of you. Your pretty hair, lovely.
And your big grey eyes. Your teeth, so bright.

My time was consumed, with one other, important task.
Besides reviewing all my memories of you.

I was patching old sheets and plaid shirts together.
I swear, lovely, it took forever. I hope you don't mind.

I took an old pink shirt, you gave to me once.
I drew a needle through the old fabric.

Repurposing love, I was. Recycling lost affections.
I worked until, all the shirts were strung and pulled neatly together.

I attached a very big basket to the very big balloon.
Now, all we have to do is find some hot air.

You and me, we can fly away together.
Just like the movies, how we were supposed to be.

Just like our dreams, picture it now, lovely.
You and I, alone, forever. No space to separate us.

No time for us to drift apart. You and I together, alone.
Forever and ever. In a quaint wicker basket.

Far, far away. Beneath the daunting stars.
And above everyone else, who always said, we couldn't fly.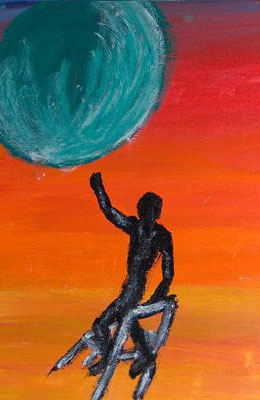 © Maegan F., Harrisburg, NC