Displacement
July 6, 2011
"For two," I order as I ensue to pay
despite persistent protests behind.
"Next time," I attempt to quell
as I draw open her seat
at the table closest to the window.
The grinding of beans and
rhythmic hymn of machines seem
to follow in cadence to
your moving lips.
I find myself lost in
the maze of your words.
I could never read into your
thoughts, an unusual sensation
to which I cannot help but
become curiouser and curiouser,
probing the suggestions your
dialect so eloquently play.
The dimmed lights exile your
shadow outside onto the pavement.
I cannot help but pity
the casted silhouette,
but my attention is drawn elsewhere.
Your presence is demanding;
I surrender everything I have
to that confidence you humble.
"Two hot chocolates with cream!"
the bartender calls as
I pardon myself to fetch our order,
rising in hesitance and retrieving
the hourglasses to your company.
As I turn and begin my retreat,
I suddenly stop to stare.
Since when did you have brown hair?
Where is your shadow?

Why are these cups empty?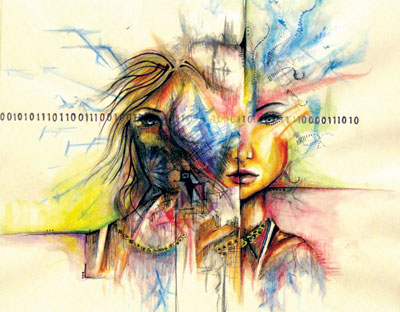 © Melissa W., Fayetteville, GA