Tree Song
July 23, 2011
I grow like the trees
My direction's not the breeze
But the soul inside of me leans
To the light beams
Freeze or heat
Brings anything, but I can handle it
Green leaves every spring
Reveal life in my rings
Steadily adding, never subtracting in strength
As length of time grows like shadows
Light goes steadily down, life is
Drowned in red waves of
Strawberry syrup as
the evening
Touches
Down

Where will I find myself found,
Called outcast or cut down?
Will I ever mind my own mouth,
And is the world really round?
Because I've found it full of ups and
Lefts and rights and down-
Town opportunities
So many choices and communities
The fruit of these
Questions will never drop without time
So I'll keep rolling like a cosine
Line intangible impossible
You can't do all these things that you demand of you

Is it the truth
Or just loose, youthful dreams,
Lex Luthor is inside of me
Saying I can't be Superman or super-manly
because I'll never save the world
And love a girl;
But if I can save a girl
And love the world,
It will be good enough for me

Come on, hang your hammock on me,
Hide your shoulders from the heat,
Speak your secrets in my green leaves like you really know me,
And I'll only whisper back whenever the wind blows me.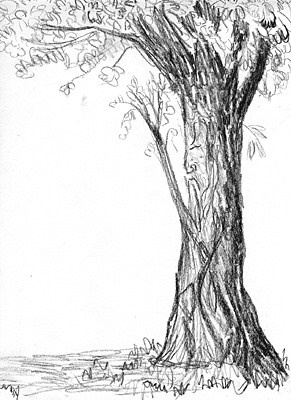 © Anna W., Athens, PA