Oh Little Dreamer
August 3, 2011
Oh little dreamer, sweet, sweet, innocence's what is it, you hold in your hands.
What wonders treasures do you see in that little creature you hold so delicately.
Does it seem as amazing as it did for me to catch that flying thing?
Those winged, it little beauties, here will you let me see.
What is that you tell me, you can't open your hand or they will leave?
Does it seem like magic when those little beauties wings beat?
Ok little beauty, it needs to breathe, that little creature is part of realty, there for it needs to breath.
Don't look so sad, it won't be the last, be sides the best part is when they fly away in to the day.
Oh there he goes, little dreamer you remind me, of me when I was just a caterpie, but just wait and you will see, how beautiful your wings will be.
It will be shaky and hard when you leave the cocoon, but you will get use to it soon.
What, you think I am coooc, well I would think that too, if I ware as young as you, but you will see, hopefully not too soon.
Just promise me one thing; you don't leave your dreams, and your little beauties, in the cocoon or any other lovely part of you.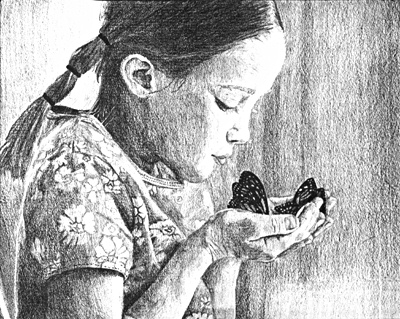 © Alina L., Holland Patent, NY