You Sacrificed it All
August 17, 2011
I knew that there were risks
With this relationship
And I knew that they were extreme,
But it's one of those things
That I never thought would happen to me.

You are in the military
And could leave me anytime,
But I never thought that time
Would be now.

We were just starting out
And I miss you like crazy.
Through this I found that absence
Really does make the heart grow fonder.

I worried myself sick everyday
Until I heard your voice
And knew that you were okay.

But one day that call didn't come.
I waited with much anticipation
And I finally got a call
But it wasn't from you,
It was your best friend.

I knew something was wrong
As soon as I heard his first few words.
I held back the tears
As he told me the news.

You were risking your life
To save somebody else's.
It was a sniper that got him
And it got you, too.
But he lived and you didn't.
How can this world be so cruel?

I keep hearing "I'm sorry,"
And "What can I do?"
But there is nothing to do
That will ease my pain.

I miss you everyday
And that won't ever change.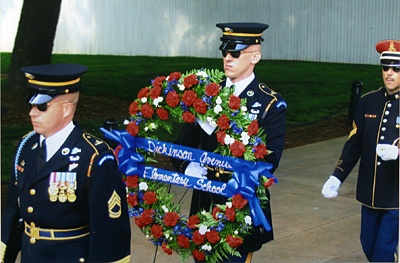 © Alejandra D., Milford, CT