Mizuiro
August 21, 2011
Mizuiro.
The boy always on the side, in the background.
My DAISY, of sorts.
Mizuiro.
My love.
Skin that looks as though powdered with gold.
Piercing eyes of a darkened teal framed with
Thick dark lashes, similar to mine own.
Lips that seem to shimmer the most delicate of pinks
That no artificial color could ever reproduce.
Soft short hair exquisitely hued in honey and coal
And crinkled so delightfully as though he were Marcel himself.
Mizuiro.
Lounging so gracefully upon his perch
A cat just waking from a restful sleep.
Mizuiro.
You comforted me, held me close.
To the words of a song most opposite of what we felt
You loved me.
Mizuiro.
Yes, you are just like my DAISY.
Touch so tender, kisses so sweet.
You believed you did not deserve love
For what you had done in your past.
You were wrong.
Mizuiro.
Mizuiro, I love you.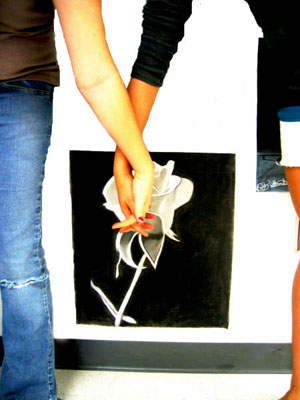 © Josie G., Wilmot, SD