Melting
September 10, 2011
Our attentions are torn away from the board,
From the chalked out calculus problems that at some point,
Became more letters than numbers.
We are mesmerized by the world outside:
It has begun.
A million frozen prisms,
Their icy architectures inimitable,
Gushing down to line the sidewalks in lacy sheets of white.

The teacher snaps the blinds down in front of me,
I answer by refusing to focus my thoughts back on her lesson.
Instead, I recall the stereotypical school posters,
Demanding every inch of wall space through the halls,
The colorful pages of children smiling down upon us,
Preaching how we are as unique as the
Flakes that are currently borrowing our minds
From our teachers and their lessons.

I catch a slice of light through two slats of the blinds.
The flecks zip past the narrow space,
Landing on the steely metal ledge beneath the window.
Instantly, the delicate angles and points
Melt to rounded drops.
They rappel themselves down the jagged bricks and dissolve,
Into the stone and out of my sight.

Those ridiculous campaigns that advocate
Individuality and self-worth,
Appear so syrupy sweet now.
Their slogans irritate me as they coat our minds
With vague concepts,
As if I am actually expected to know who this "true self" is,
That I am supposed to be.
As if I should pretend to see myself and my peers
Like snowflakes,
When we are only water.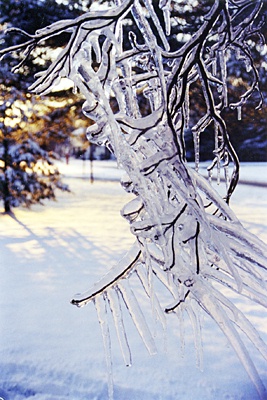 © Robert S., Stoughton, MA