9/11 Twins
September 29, 2011
I watched as these twins fell.
And as I watched I felt
helpless to stop.
I watched to help them,
but i was too young.
Though so were they.

I watched as two planes
crashed into those twins.
People were surrounded
by death, flames, and smoke.

Bombs dropped
from the sky one by one.
Though they weren't bombs.

Red eyes formed
and smoke bellowed out
from the mouth of the crash site.

Suddenly one twin fell
Taking hundreds, thousands
with it.
Following one twin
The other fell
taking more with it.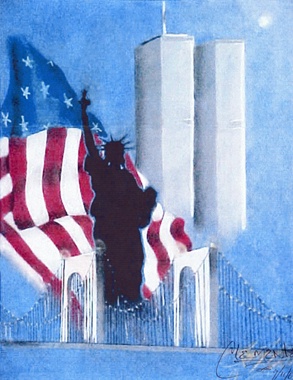 © Christopher C., Far Rockaway Queens, NY