As I Flee the Darkness
October 8, 2011
Trying to get out of a hole
that you pushed me into.
I grasp the sharp ledge;
you slam your foot onto
the tips of my fingers
until they bleed and
beg me to let go.

Red is oozing and gushing
everywhere
so that it becomes slippery
and even my feet can not
hold on.

My body remains
without any support,
submerged in the depths
as my heartbeat increases
in volume and intensity;
I can feel it striking against
my ribcage, aiming to destroy
in fear
as I wait until I feel your heated aura
drift slowly into the distance.

It starts to cool and
I think you are gone
so I stand on my tiptoes
and peek over the ledge to
see your grimace staring
right back at me,
hungry for more.

You scream and curse
with poison spit flying
from your forked tongue;
when it touches me,
I feel me skin burning
and shriveling unto the bone.

Fire is enveloping me,
but the only thing I feel
is despair,
for I see you throwing logs on the fire,
I don't even feel the splinters
that are submerged in my blackened skin.

All I have left now is my soul and my thoughts,
as my bones are strung by nothing but
twine and dust;
you read my thoughts
and cast me into confusion.

The deep, dark isolation
crept its way out of the darkness;
all it took from you
was a soft whisper,
and I tumbled down,
back into the abyss.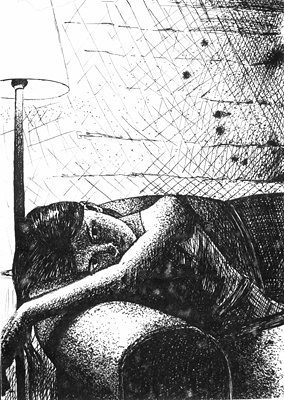 © Elisabeth R., Elmont, NY