A Lustful Game
November 15, 2011
The words you say don't reach my heart.
They go as far as my cold, ice bearing skin at which
The sun never warms.
They slither around my ear,
Peering for any small opening
Which they wish to enter and suffocate my soul.
Their lustful, honey-coated mask
Attempts to tear down the walls I put up against you.
Then you look at me with those cinnamon colored eyes
And you raise the corners of those perfectly sculpted lips,
And you make me realize I never put up any walls against you.
I put up walls around you,
To trap you inside with me, only us.
To keep everyone else out.
We both belong to someone else.
So why risk hurting those who can't satisfy our needs?
You're using me, but I love it.
I'm just a piece in your ever-lasting game.
But I enjoy it.
I add the flare and resistance that only makes you play harder.
But you trying harder makes the game more fun for me.
I enjoy making you work for what you so badly want,
And in the end what you are just going to throw away.
But before you toss me away into the wind,
At least let me have some fun, too.
When you toss me aside and treat me badly,
It makes me want you that much more,
And you know that,
So you use it against me and hurt me,
So I keep coming back to you,
Giving you more than I did before.
Obvious to everyone else's eyes.
You lure me in with your sensual, wanton stare
Guiding me with your ever-experienced touch
Leading me away with your lustful gaze and actions.
But I can't follow or give in to what I so badly want, what I need,
Because things always go badly in the end.
This isn't the first time we did this.
I know very well your cruel but exotic games.
When I resist you I'm afraid I'll lose you forever.
You use that against me.
You brush your arm gently against mine,
Causing my body to tingle and blush.
You are the only thing that can warm my body
And quench my thirst for adventure and risk.
So why do I continue to resist?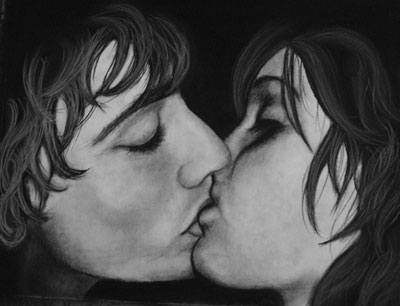 © Anna Y., St. Robert, MO