Walking
November 28, 2011
Let's just walk; Forget about the breeze
Or the cautious twinkle in my eyes.
Wince as the ocean spray pricks delicate
And listen for the crooning of the skies.
Nobody has cause to see or hear us:
A world frozen, save the lover's dance.
Watch caref'ly where you step 'long here, my darling;
Your tread preludes the welcome reluctance.

The wind picks up now; the stony grey sea
Beats in time to the lonesome piper's tune.
There surely can exist no God, my dear one
For angry clouds obscure our graceful moon.
Answer me this; do you think half as much
Of I of you, or is sweet loneliness
Blinding me so that reality fades
Into those thoughtful blues and calloused reds.
We stand now here, potent'ly at the end
This story's twists are fin'ly coming clear.
Why should we wait, and lose the pow'r of speech?
Your eyes are dark, the color of despair.
Now as the piper-man quickens his pace
A choice is made; the angels gasp and moan.
Don't waste your breath on last goodbyes, my darling:
The world's dead - 'tis you and I alone.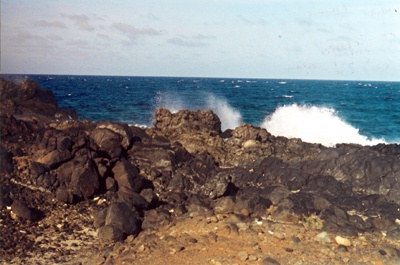 © Matt A., Smithfield, RI