Stronger
November 16, 2011
They say what doesn't kill you makes you stronger.

If that was true, I'd have the strength to hold on tight,

For many seconds longer.

I hear her voice, so crystal clear

Like morning sunshine,

Or an autumn breeze

She keeps me holding on, the future very near: (So close, yet sliding somewhere far away)

Leaving my thoughts to slowly freeze

I think it's goal is to become impossible for me to reach,

I have a lot to learn, and she - a lot to teach.

I'm stubborn, genes to blame

It's not a gift, most certainly

It's not a shame.

And sometimes I refuse, to soak everything in.

My ignorance (or prejudice)

Is standing tall, and doesn't trust a possibility of sin.

But what refuses to make sense,

Is the question of morality.

My love for her is far too great

To stand before my search

For death (Or immortality)

So why not think outside my normal standards?

And open up my stubborn mind?

The possibilities are endless.

(Do pardon this ancient cliché)

I'd rather do that, than leave her behind,

And layer up new senses of knowledge

Creating intelligenes like paper mache.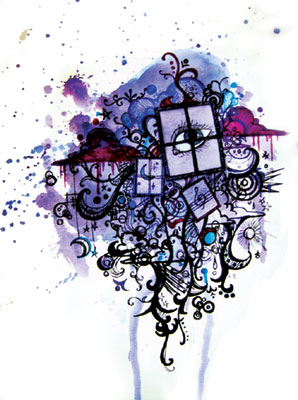 © Savannah R., Stoneville, TX