Only Words
November 23, 2011
He looks over my shoulder disapprovingly
as my pen scratches away at the paper
laying out the story
that dances 'round in my mind
"Why do you write?"
he asks me
"They're only words."
How can he not realize
that they are so much more?
More than a jumble of lines, dots and curves
trailing behind flying pencil-strokes
More than strange symbols
lined up in rows
like disorderly soldiers
of strange sizes and meanings
I write to tell my own feelings
through another's tale
I write so others can not just read
but see, hear and feel
See the bright, cunning, intelligence
that hides in a cat's glinting, sky-blue eyes
Hear the unceasing words of the wind
as it whispers through the valley
cooling my sweaty brow
and filling my heart with a longing
to fly away on the breeze
Feel the sharp touch of the blade's silver edge
and the searing pain that comes after
as crimson spills to the ground
I write so that readers will know my world
Letting them explore the stories
that wake me late in the night
screaming to be told
yearning to play across other's eyes
and fill their minds with knowledge
of a world unknown
I do not write only words
I write an experience
I do not write so that you may read a story
but so that you may live the story.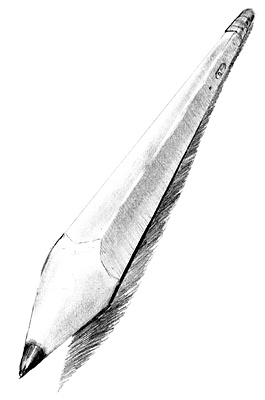 © James H., Philadelphia, PA