A Daughter's Love
January 26, 2012
There were two walls she saw: the one to feel, the one to see.
She had her head down in her knees.
She heard the footsteps darkening the night.
She closed her eyes and prayed to God for light.
She breathed in furtiveness into the room.
She wrapped her fingers around the metal broom.
She slowly picked herself off the ground.
She moved towards the man without a sound.
She smelled his musk a good ten feet away.
She looked outside to see the end of day.
She took a step and held her breath inside.
She listened to his breathing as a guide.
She went another step and held her grip.
She lifted up the broom and swung the whip.
She loved the way it hit him in the jaw.
She noted the way his flesh was red and raw.
She grasped the broom again and swung the pole.
She laughed when metal struck his neck's brown mole.
She cringed as head and bone twisted around.
She gasped at the horrid and deadly sound.
He saw his killer as she held that broom.
He hated his daughter for what she was about to do.
Never mind the brand new car outside.
He noticed the hatred in her lowly stride.
He saw the glimpses of the final blow.
He felt his body slowly lift to go.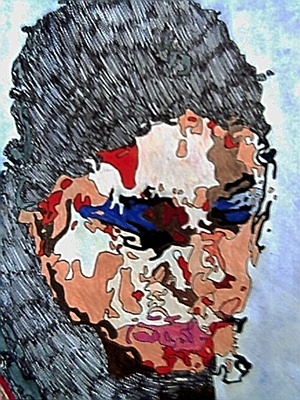 © Sarah A., Morristown, TN