Upon the Banks of the Nile
February 9, 2012
The sun once rose
Bestowing its gift of light and warmth
Upon empires grand, pantheons mighty.
The highest of civilizations
Nesting upon the banks of the Nile.

And sands trickled slowly through the glass
And grains drifted innocently upon biting winds
Settling to form mounds, dunes, oceans
Blanketing the world in eternal whiteness.

And I ask...what was?
What imposing temples and magnificent shrines
Lay forgotten beneath the dune
Upon which I stand?
What stories of tragedy, suffering, despair,
Courage, honor, strength,
Lay dormant and forgotten
Under treacherous seas of time?
Of what great battles, of what grand conquests,
Do these strange symbols speak
Whose pigments and lines
Have been obscured by the ceaseless beating
Of great tempests of sand and wind?

What happened here shall never be known,
Only that it was great, perhaps terrible,
Definitely grand.
For what now remains
But scattered debris, weathered rocks,
Deep underground tombs...
Even the voices of the dead are silenced.

And still the sands trickle through the glass
And still grains drift innocently upon breezes of time
And the dunes and oceans grow ever larger
Obscuring the world we know in darkness.

And I watch as the sun rises
The chariot of Apollo, the manifestation of Atum-Ra himself
Evermore bestowing its light and warmth
As I sit in silent reverence
Upon the banks of the Nile.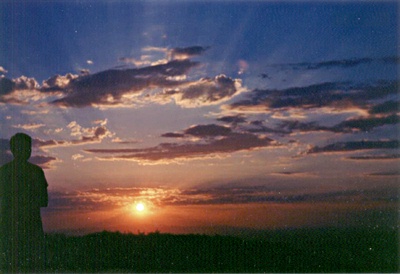 © Jovee B., Dededo, Guam