The Large, Black Bag
February 11, 2012
Victoria watches as her mother
drags a large, black bag behind her.
Every once in a while,
the bag would move.
For, Victoria's father, Edward,
was tied-up and trapped inside
the large, black bag.
Anne absolutely hated her husband.
But then again, she was also half-insane.
Her heart was burnt and black,
blacker than the large, black bag.
Victoria could do nothing,
but watch her mother and
cry her eyes out.
Once at the cemetery, Anne
unzipped the large, black bag,
revealing the out-cold Edward.
He passed out, due to the events occurring, and the fact that he was in a large, black bag.
Victoria shouted and screamed
at her mother,
but she was too scared to involve herself with her mother and
the large, black bag.
Standing in the drenching rain,
Anne grabbed the shovel that was
against the old, rusted gate. She
found Edward's planned grave area
and started to dig a deep trench
to bury the large, black bag.
When Victoria's mother was in the ground, she looked up at
her daughter's sad, sad face. But
she kept digging.
Victoria thought about pushing the dirt over her mother's head, but
she loved her too much.
The large, black bag shifted
an inch, Anne crawled out of the
ground and hit with the shovel,
the large, black bag.
Anne yanked Edward out of the
large, black bag and sent him
tumbling into the hole.

I awake to the sound of metal clanging, and in complete, dead
darkness. No stars.
There seems to be something
falling over me, I am laying down.
I open my eyes, only to
have them drowned in mud and rain.
I can see a black mass, a bag,
lying on the ground above me,
a large, black bag.
This must be a dream, it must be!
What frightens me, is that
I can hear my baby girl crying,
mixed with the sound of thunder.
I scream, "What is this?! A joke?!"
It was not a joke.
It was not a dream.
I was being buried alive.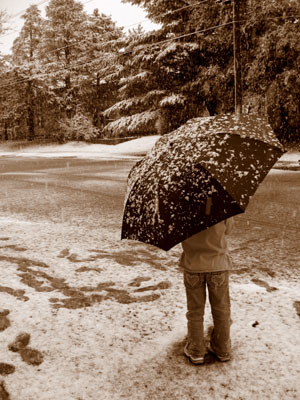 © Hui Y., Potsdam, NY