A Perfect Life Not So Perfect
February 19, 2012
A perfect picture held perfectly in a frame.
A familiar look because they all looked the same.
Her beautiful kids were all she had to enjoy.
She was surrounded by a little girl and a boy.

She gave all she had for the man that she married.
She quit her job because a baby she carried.
She didn't know any better than what she was giving.
She really wasn't actually living.

Not a thought did she give it once at all,
And her life suddenly came to a fall.
She cried and she wept for days on end.
Had no mother so she called a friend.

But that didn't seem like enough, it just wasn't the same.
Her love for her husband was all that remained.
She felt so useless, felt so unloved.
So she prayed to the Heavenly father above.

"Dear Lord, please help me, you know what is wrong.
My husband doesn't love me, because he's always gone.
My kids are too little to really understand,
And I try not to be forceful but I have to demand.
They cry and they fuss, and I just don't know what to do.
My family is parting, but I trust in you.
I have so much fear that he'll leave me one day.
With all the yelling and screaming that comes my way.
But I married him Lord, because I knew he was the one.
I gave all I had, and then my life had begun.
But it feels so awful, I'm always alone.
And recently I never really feel at home.
So please, help me, I put my full trust in you.
Show me exactly what I've got to do."

She waited and she waited, but no sign had shown.
Her husband walked past her as if he wasn't home.
She tried getting his attention, but he just shook his head.
When they went to rest, he wasn't sleeping in the same bed.

She took the kids to school, he just went to work.
He was always acting like a really big jerk.
So finally she had it, she had enough.
Her life was getting way too rough.

She packed up her things and her kids things too.
Her husband came home and saw what she was about to do.
He gave her a look, a look that spelt worry.
He said, "Why are you leaving, what is the hurry?"

She couldn't help it, so she belt out in tears.
Told him all of the things that she had in her fears.
He stood there, listening, trying to understand.
Wondering if he'd really become that man.

So he gave her a hug, told her, "Please, wait."
Then he went in his room before it was too late.
Took out the ring that he once put away.
From the ceremony they had on their wedding day.

He sat there and held it in his hands.
Remembering the day with their wedding band.
He closed his eyes, and knelt on the ground.
Asked God for the strength to turn things around.

Then he went back to her, his two kids and all.
With the ring in his hands, then he came to a fall.
He took her hand, held it in his.
Put it up to his mouth and gave it a kiss.

"Please don't go, please don't leave.
God blessed us with these kids that we have received.
He's given us a home, and a life we can live.
Even if I might not have that much to give.
I know we can do it, I know I can too.
You're the love of my life, yes, I love you.
I just haven't shown it, and for that I am sorry.
You have nothing now that you'll have to worry.
Just give me a chance, a chance to show you.
That we're a family, of two plus two."

With the words that he said, she couldn't resist.
She lifted him up and gave him a kiss.
He held her in his arms and told her he was wrong.
From that point on, they'd get along.

Their kids laughed and giggled with joy in their eyes.
They knew their parents had made up, it was no disguise.
They both picked up a child, each in their hands.
And she smiled at the fact her life had finally began.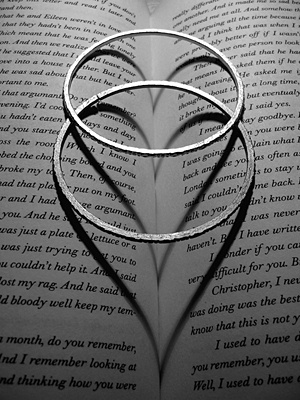 © Julia K., Old Tappan, NJ