The Night of the Moon
February 20, 2012
A diamond peers, thrust against the granite night,
jewels, hand picked by the moonlight,
unravel the thoughts inside me.
Wispy spiderwebs of cotton dance eerily and veil the diamond with strokes
of black poison, concealing her pallid glare.
Ever rising, the the eternal eye of a dying god, she is unveiled,
once again the source of wonder.
Venus snakes by, trapped by the greedy clasp of the sun.
But not the diamond.
She forever changes shades, but remains the same cold companion of Earth.
I grope out to reach her, to feel her, to gaze in to the
misty mirror of the blinding eyes of Apollo, drenched in tears of night.
But night, the one that exposes her
confines me to my imagination.
I reach again in vain,
the paramount realization
I am only human.
Like water, the feeling of pansophy slips through my sieve of fingers.
I sit, suspended in kef and anoesis,
lonely save for the ferly diamond now lolling in blatant mockery.
She stares, superior, stranded.
I leave empty, she stays full.
The moon wanders ever more. With or without me.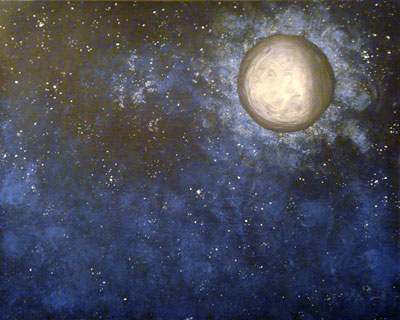 © Allison H., Vancouver, WA