Rainbow Desert
February 29, 2012
Blue.
I am a freshman.
Barely fourteen.
Blue like the sky, like
the wide blue excitement
of my unlived life
and unruined naivete,
like the eyes of -
well, never mind who.
They're just blue.

Yellow.
Summer-like sunshine.
I am fifteen now,
summer birthdays
already gone.
I can't see
through the too-cheerful
sunshiny reality.
Freshman year is over.
Sophomore year has begun.
The lightning bolt
stabs in my foot
the flash a little more violent
every day.
Finally I give up the ghost
and run for shelter,
to extend the metaphor a little longer.

Gray.
I am still only fifteen.
Am I only fifteen?
I feel years older.
Perhaps my hair is gray -
no, my hair is still yellow
like sunshiny reality,
according to the gray pool of mirror,
reflecting back the everlasting grayness
I have let my life become.
I would even prefer
the stabbing yellow lightning-bolt reality
to this foggy desert.

Pink.
Pink like the sunrise.
I'm still only fifteen.
Can so much have happened in such a small year?
Anyway,
the sun rises in pink,
the gray desert is flooded
in its light.
A whole summer of pinkly bright happiness.
I am sixteen now,
summer birthdays
gone again,
but the faraway sunset rose-flush
brighter than ever.
Is the gray desert I ran on a year ago
the same pink dream-spanned one
I am running on now?

Orange.
Crash and burn.
Sixteen still.
Is it me, or do I seem to be able to cram
A lot of life into less than a year?
(Either that, or I'm making life-mountains
out of life-molehills, but oh well.)
Orange still.
Flames, in fact,
a desert fire.
Perhaps caused by the heat lightning,
pulsing from my feet
as I chase breathlessly across the desert.
Never mind what I'm after.
Orange. Orange and gray. Flame and ash.
The fragile rosyness
eaten up.
Carnivorous colors, orange and gray.

Pink and gray.
Pardon me for the combination, but I must.
Sixteen still.
(Wow, look at me go!)
Pink for dreamy sunsets,
gray for solitary twilights,
exactly enough of both.
And maybe
when someone comes
with an eraser made especially for gray,
I'll have a gray place on my canvas
just waiting to be erased.
And it will turn

White.
White like unwritten,
like my still unlived life.
While my naivete remains in ruins,
at least the cloud of wonderment
through which I see the world
remains,
like all good clouds should be,
white.

Move over, ROY G BIV,
move over, ordinary,
and make room for BYG P OGW,
make room for
my extraordinary rainbow
spanning this clear desert.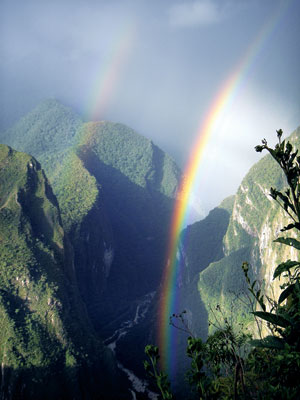 © Benjamin C., E. Norwich, NY