Connection
February 28, 2012
The hands molded together, through wind and weather they stood
Unaltered.
For so long they remained as a unit,
That each had the other indented into not only their bodies,
But their hearts and minds,
Always feeling the warmth of knowing someone was
there.

The attachment was never strained. Neither one longed to move
in the other direction,
Not only because they never wanted to separate,
But they knew they were on the same path.

Until that stormy day came, when fate ripped at the swaying branches in the wind.
When the bonds of the rooftops were tested with the force of change.
And the howling of the wind sent even the strongest spirits running to their homes.
Only then did the hands finally sever.
But not without a challenge.

The brute force of the winds came down upon the connection.
Beating with fists of rage, anger, and
Jealousy.
But even through the gusts of air did the bond stay.
With a steadfast grip and relentless hold on the other,
They remained.

But fate does not yield easily to stubborn youth.
No. Because it is just as strong willed.
When the tickling of a warm breeze soothed
The raw skin left after the hurricanes,
The hands calmed.
Knowing that the barrier was crossed, the unity fully
Permanent

But innocence must always be shattered.
And so the storm used its gateway between the wall
To widen the gap pushing the flailing hands further and further away
As each struggled against the winds they knew they would not rest
Until the need for their other half fulfilled.
But that fulfillment would never come.

So the still raw, bleeding hand stood alone
As the storm, even now, keeps raining down.
But with the knowledge that she was not the only victim.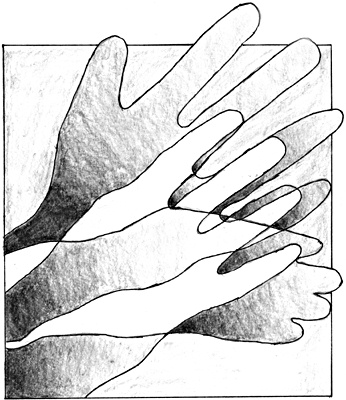 © Dawn Grace R., Barrigada, Guam