Im Your Friend
March 26, 2012
There's purple and orange skies,
the stars here look so blue your eyes hurt.
The waters so pure and clean,
with a world full of happiness and no pain to endure.
But when she wakes from this dream everyday-
The world is dark and grey.
Its a scary place to be,
its a place she wants to scream.
Everyone always pushes her around.
They call her ugly names,
it hurts her and breaks her soul;
she stays in this scary place day by day.
These dreams she has every night,
she only wishes it could become reality.
But she knows it would never come to be,
she just wants to be happy and free.
Her parents are drug addicts,
she's always alone and cold with doubt.
No one ever comes to talk to her,
she starts to feel the need to do something drastic.
Sasha gets home that afternoon,
and goes to her parents gun cabinet.
Her life means little to her now,
and she thinks she has to end her life.
When she touches the cool metal,
feeling better by just touching its cool and powerful surface;
she points it to her head,
that's when I walked through the door.
I wasn't stunned by what she had to her head,
Because I've seen the way people treats her.
All I did was simply acted,
and the words that left my lips made her stop.
I said, "No, please I'm your friend."
I told her, "I've been seeing the way people treat you, please let me help you."
She started moving the gun away,
but her hand slipped and mashed the trigger.
I screamed and leaped towards her,
I caught her as she hit the cold floor.
With her life's blood pouring from her chest now,
I said a prayer and called 911.
Even though she almost died in my arms,
I am proud to say-
My friend is alive and well today,
and its all because I got there before it was all too late.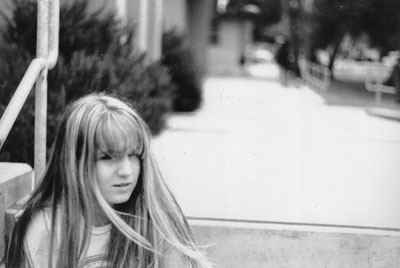 © Alyssa R., Pacific Grove, CA