Raindrops
March 26, 2012
Like tears fallen from the sky
These silver drops come down
And I can't seem to explain why
They make me feel as if I've lost everything.

I stand between the past and the future
A point in life where a choice must be made
But all I see is raindrops falling in a dancing, silver cascade

I look behind me at memory lane
Of past loves and hopes and dreams.
I wish to stay there where I am warm and safe, but I can't escape the raindrops of change.

Before me is the future, dark and uncertain, one I can't see.
I have to move towards it with nothing to guide me
Surrounded by raindrops of misery

Fear wells up within me, but a new courage blooming too
I was born with the strength to face this unknown
And will not stop until I do

So though raindrops keep falling
And though my path seems so confusing
I will not lose sight of my dreams, but face the future with welcoming arms.

The raindrops fade away. They can't hold me back forever.
I can't no longer stay; I must move on and grow older.

The past is a fond memory but it was already lived and done; my hope is in the future, not in the raindrops but in the sun.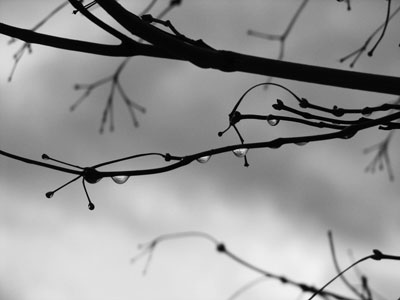 © Carly M., Hopedale, MA