Sometime in 1940
April 1, 2012
It was a melancholy Tuesday
for the family of a daughter
who lost her way
and the Nazis got her.
She went for a walk
along her street to visit a friend
abruptly stopped by a Nazi to talk
she knew this could very well be her end.
Her frail pink ears
at which the cold nips
Her piercing hazel eyes full of tears
they covered her ruby lips
so nobody would hear her cries.
Pushed into the unknown
Tears dripping from her eyes
curled up in a ball alone.
Identified by the yellow badge on her chest
A little Jewish girl trying to be brave
She sat-another unfortunate guest
forced into an early grave.
A camp is her stop
Titled "Thill"
it makes her little heart drop
down and gives her chills
told to get out
she silently obeys
instead of cry or pout
she bows her head and prays
ordered to take a shower
she strips out of her dress
knowing this may be her last hour
she decides she probably does look like a mess.
She enters with the other girls
tries to look brave to the younger
bouncing of their curls
complaining of thirst and hunger
she takes a deep breath
unaware its her last
she steps into her death
by a shower of gas.
And now a grave lies
for another unfortunate kid
who never said her goodbyes
she never ever did.
Her family's sobs won't bring her back
she left soon after she came
and now here stands her great great niece in black
who doesn't recognize her great great aunts name.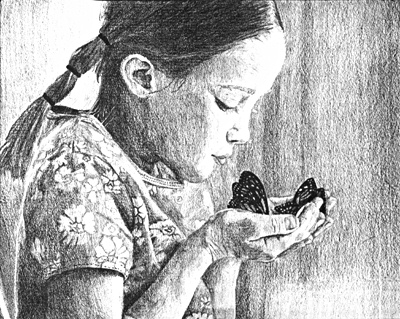 © Alina L., Holland Patent, NY