Sisters
March 28, 2012
You strut down the hall
hands in your pockets
the world is yours
you know it

I always admired you
that pretty popular girl
that I was fortunate enough
to have as a friend.

As I stood in your shadow
while you primped
in your cheer uniform
for another basketball game
where I would sit
in those crowded bleachers
admiring you

You always have
each hair falling perfectly
on your flawless face
with your big green eyes
prominently shining.
Tan skin year round
boys crying for you
girls dying to be friends with you

And I always have
my scribbles of hair
pulled back into a bun
bangs sweeping
my porcelain face
with my blind blue eyes
hiding behind them
freckled and blushing year round
boys laughing at me
girls gossiping about me

I wasn't like you
I'm still not like you.
I can't break a boys heart
without crying for days
I can't hide all my flaws
they just won't erase
my hair won't ever be
long, brunette, and straight
I'll never master my mascara
or dazzle with eyeliner
I can't find a new boyfriend
every week.

But I'm me.
And you weren't like me.
And you never with be
You won't cry about every boy
who makes you fall hard
again
You won't hide behind your bangs
your confidence won't easily erase
your hair will never be
bright red scribbles
You'll never master math
or dazzle with poetry
You'll find a new boyfriend
every week.

But we're friends.
And even as we grow far apart
I just want to say
sisters always stay
close
at heart.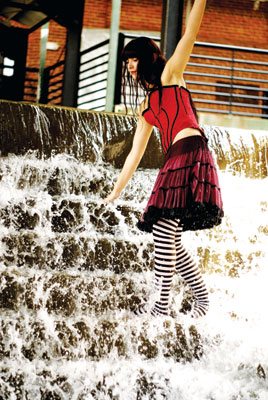 © Daniel H., Durham, NC