Like I Have Done My Whole Life
March 31, 2012
He emerges as a colorless dot amongst
The orange leaves and decaying fruit.
The closer he becomes, the more vivid
His heart of purple and hat of steel.
But, I just stand, waiting,
Like I have done my whole life.
My hair, violently blowing in the sea breeze
And my skin glistening in the sun's rays
Remind him of my splendor.
And his face, now visible,
Is no longer insipid like it once was,
But rather, has become that of crimson.
His father says it resembles a wingless cardinal
Or a speechless parakeet,
But, I just remain unspoken,
Like I have I done my whole life.
His muddied boots and resilient expression begin to rust
As the snow gently falls upon his shivering back.
My legs too quiver in the cold,
As do my hoarfrost hands.
But I just remain fervent,
Like I have done my whole life.
The evergreens become bare
And so does his pride
As God becomes conscious of the white stars
Protruding from a blue plaque
That has been forever, carved into his soul.
He falls to his knees and crawls towards me,
Already apologizing for his valor.
Yet I turn away,
Feigning disgust.
The budding trees and flourishing lilacs form
A perfect backdrop for his presence
As I wait contently,
Like I have done my whole life.
The metal stick he grasps so tightly, bellows,
Causing all the birds to leave their nests and all the deer
To disappear.
Yet, he remains indifferent,
Nature being the least of his worries.
My face begins to burn in the sun's eloquent rays, and I watch
As his bare head slowly chars from anguish.
He cries,
In dire need of love, he cries,
And I respond with a holler,
Only to be heard by God himself.
I hold my hand out waiting,
Like I have done my whole life.
He too stands with his arm outstretched,
And finally,
After an eternity,
Our hands touch.
I try to seize them, but he tears them away.
I fall to the ground, the rain of the angels decanting
From my eyes
As I plead him to stay.
Nevertheless, he turns his apathetic eyes
And once again, travels through
The changing seasons.
I watch, as he becomes nothing more than a colorless dot,
But I just stand there, waiting,
Like I have done my whole life.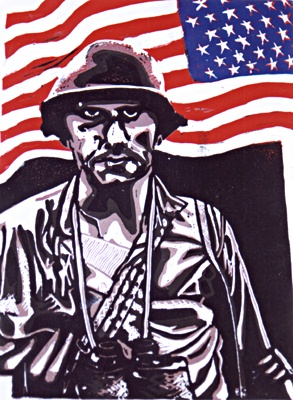 © Troy W., Kannapolis, NC