Only Shadows
April 11, 2012
Shadows stretch across
Your bedroom wall
And you press against your bedframe
Is that scratching?
That couldn't be talking?
Your hands scramble
And fumble
Trying to find a light
But the switch is across the room
And your flashlight laying by the door
And you can't move
You are filled with a fear
A fear you haven't experienced
Ever before
Your hands curl at your sides
Knotting in your quilt
What is there to be afraid of?
The dark whispers,
'Tis only shadows.
On your window sill,
Flowers bob their heads
Only shadows,
You coward
Stand up and face them
Only shadows
Your eyes pull away
And you stare furiously at your white pillow
Lay down
It encourages
Lay down and you will be
Perfectly fine
You let out a scream
And you throw the pillow at the door
Why did you do that?
It questions,
Only shadows…
Only shadows…
Tis only shadows…
You screech and scream
And pound at your mattress
You know you are going to die
But for a brief moment
Everything is quiet
And you look up
You stand up
You walk to the door
Open it
You are looking down
The barrel
Of
A gun
That wasn't so bad,
Says the robber,
Was it?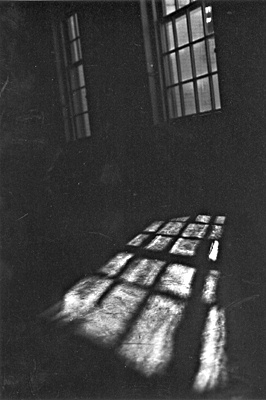 © Mary A., Fullerton, CA