Remembering 9/11
April 11, 2012
rain falls that afternoon, weeping.
the announcers slowly read the names of every victim,
all three thousand.

we remember William Reed Bethke,
Emerita de la Pena, Liming Gu, Peter Teague Milano…

we pray for the vanished ones, the tenth anniversary
of three thousand shrouded in smoke,
lost to eternity.

let us honor the newly built memorial.
names carved onto the calm stone slate,
black marble – squid ink.

we pray each day

remembering is the most painful,
yet we celebrate its tenth anniversary

we close our eyes
in prayer,
palms barely touching

these same hands we hold up
to praise the lord who has
been with us always

it is our family,
our lives, our souls
that have been broken

let us keep a moment of silence.
lips closed, we draw a breath
that our dead can't hear.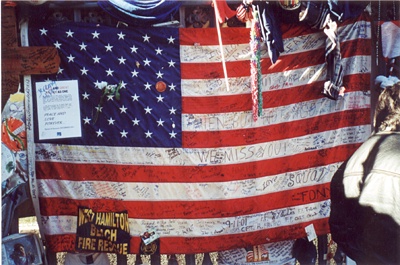 © Ashley F., New City, NY