Nodding Out
April 10, 2012
The night lies in the wake of destruction
nothing but silence.
There is a fear that the walls are closing
in on me to fight what I have left here.
Sparking darkness flutters on the ceiling
inside my box of dreams
couped in the steel frames where faces fix smiles,
yellow stained, the sunshine of memories.
They are bouncing back, back to the times of
no remorse or sin that has captured my lost soul.
Lying down, holding thoughts in cupped hands
reminiscing through my lines and wrinkles
But then it stops.
Time is freezing to thaw in the newborn heat.
Reincarnation begins as the soft
slumbers in and falls on my deep set lids,
counting out the fear and gently, swiftly
slowing down.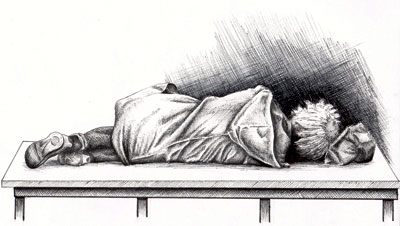 © Devin N., Sherrills Ford, NC