A Chance Of Shower
April 29, 2012
I lie in my parents bed;
Head down, hands still, mouth shut
As I am cautious not to make any mistakes.
Crisp vibrations of rage leave their sweltering mouths.
I dare to glance and notice a rash hand-gesture on my mother's part,
I dare to listen and hear curses in a nonexistent language on my father's,
And I dare to feel;
To feel a loneliness colder than ice and larger than life.
I stare idly at the black and white TV screen
At the news anchors and weather men and traffic reporters
At all who have lives they cherish
Where as for me, life is a burden.
Just as these dismal thoughts fill my mind
the weather girl,
Nancy something
trudges onto the screen;
"There's a chance of shower," she says
and walks off.
I snicker at the word chance,
And as if she had been talking to me
I reply.
"For me" I whisper,
"For me, it is always showering.
Never sun, never birds, never anything;
Just one leaden cloud
Pouring rain upon my heart that is
Forever scarred with loneliness.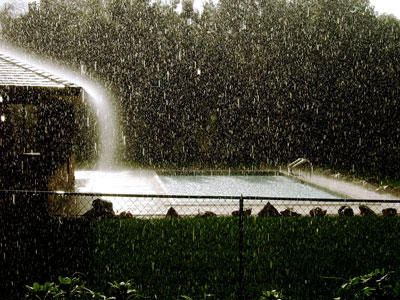 © Chelsea C., Auburndale, FL