The Dancer in Me
May 2, 2012
I look out upon the sea of blackness in front of me.
The lights are pounding on my stage,
Showing the world what I am saying.
Point, Pique, Tourjete...
What if I trip?
Shall I stumble and make a fool of my self?
No. I shall perform to my utmost best.
Point, Pique tourn, Tourjete...
I know that soon it shall be my big moment.
As thee other dancers part and pose,
I press my way forward.
Point, Point, Pique...
I prepare myself as my partner comes,
Out of the crowd he stalks.
My heart starts racing as I turn to see him.
Tourn, Tourn, Arabesque...
I run towards him, leap and hope...
All my worries reside here,
I know if he missis I'm dead.
He Points, Pique tourns, and Reaches...
For what seems like an eternity,
I remain falling,
Almost suspended in the air,
His hands wrap around my ribs,
We did it!
Once my feet are on solid ground,
We Point, Pique tourn, Split leap, Tourjete...
Then as one, we bow.
Wild applause rises as the curtain drops, But all we can think is,
SUCCESS!!!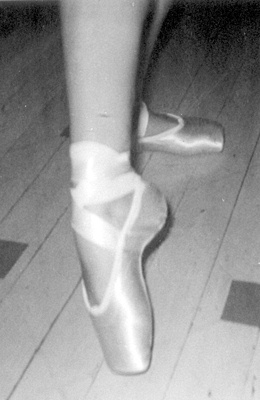 © Amelia B., Philadelphia,PA